AMERICAN FENCE RENTAL
Over 50 years of temporary construction fence experience. After installing 1000's of feet of temporary fencing across the Midwest, American Fence Rental, a division of American Fence Company, can help you with the latest temporary rental fencing technology and the newest and greatest security solutions. American Fence Rental temporary fencing systems can help create the security and protection needed for a variety of temporary projects from run of the mill construction, marathons, concert venues and anything else that could benefit from temporary barriers. Anywhere you need to limit access or increase access security, they have all the rental fence options you need.
American Fence Rental specializes in offering the most affordable and high-quality temp rental fencing options for customers across the Midwest. Our customers work with our project managers to choose the correct temp rental fence option to fit their needs. American Fence Rental has on hand literally thousands of temporary fence panels, barricades, posts and fabric ready for delivery and installation. They have a variety of different options, including anti-climb as well as classic chain link temporary fence. They also have the capability to customize the fencing to each customers' needs and specifications.
Anti-Climb Temporary Fence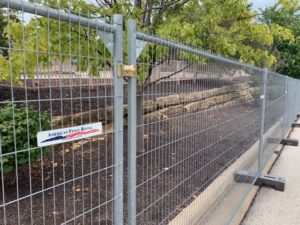 For an extra boost of security for your rental fencing, look to anti-climb temp fence. This style of temp fence has narrow rectangular mesh, is welded on all sides for a stronger frame and has C-brackets installed on all corners. This style of temporary fencing was created to deter thieves and vandals and any other unauthorized personnel from accessing your job site.
The Anti Climb temporary fence option is the most durable and safest temporary fencing option for construction and event site security. These temporary fence panels consist of 99 vertical and 13 horizontal wire that also protrude past the tube. If anyone managed to find a way to climb this fencing, they would still be met with a nasty surprise at the top.
Chain Link Temporary Fence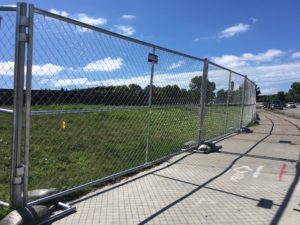 Temporary chain link post and fabric fence installation is performed by driving posts into the ground. If necessary, we will core drill into concrete or asphalt surfaces first and then drive the posts. If you do not wish to break-up existing surfaces, the posts can be installed into portable stands that are anchored with 60-pound sand bags. This temporary post and fabric chain link fence is the best means to create a continuous well anchored barrier around the perimeter of your project.  You may customize your rental fence with additional options including barbwire for site security or protection from dust and prying eyes with our privacy screening.
Need a free quote for rental fencing?