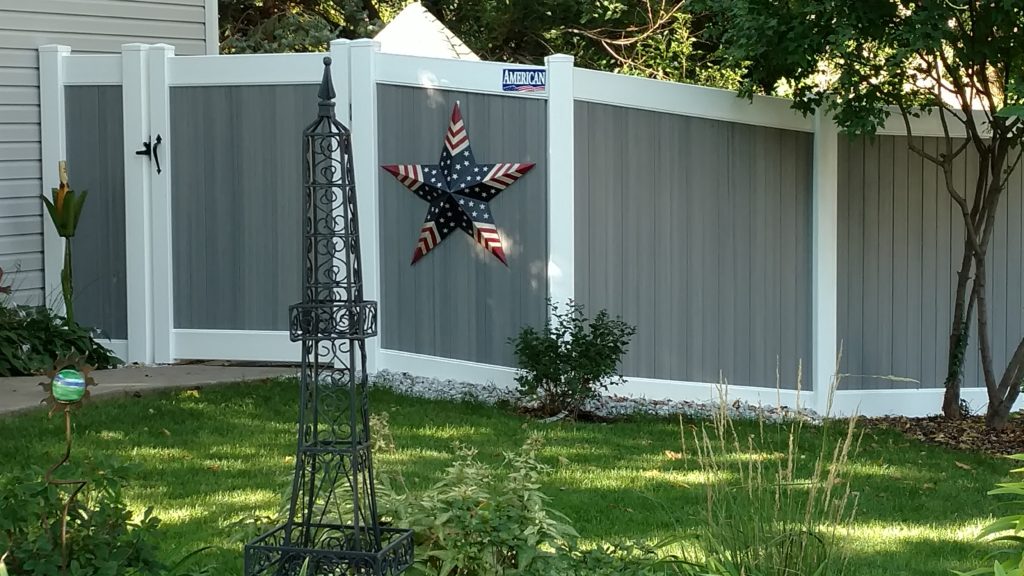 Sioux City has weathered through another winter season, and vinyl fences around the city are still standing tall. This is of no surprise as we've known of vinyl's lasting power since it was introduced over 20 years ago. Yet, some neighborhood associations and homeowners still aren't sure if they're ready to choose this product over the much less durable wood and metal styles of fencing.
Vinyl fencing's base ingredient is a rigid polyvinyl chloride (PVC) Homopolymer compound with a high level of titanium dioxide pigment for long-lasting ultraviolet light, as well as impact modifiers for increased durability. Vinyl roofing and siding have a very similar makeup which contribute to their structural integrity and product life.
Will vinyl fence burn?
Vinyl fence does not easily ignite as its flashpoint is nearly 900 degrees Fahrenheit and is even considered "self-extinguishing."
Is vinyl fence resistant to graffiti?
Graffiti washes off vinyl fence very easily with just a little soap, water and a sponge in most cases. Some cases could require a power washer, or in extreme cases you can use paint thinner. At the very worst, you can also use 400 grit sandpaper for any spots that won't come off using any of the above methods.
Will vinyl fence break?
Vinyl fence is very durable and generally only breaks if there is some sort of direct impact, such as a fastball or thrown rock. Under normal use and when installed properly, vinyl fence will not break. In the case that there is any direct impact, pickets, rails and posts are all easy to replace.
How long does vinyl fence last?
Unlike wood, chain link or ornamental fencing, vinyl fencing will last you a lifetime. It will not decay, rust or get warped. At the most, your vinyl fence may lose a little sheen over the years.
How does vinyl fence hold up in hot and cold climates?
Since vinyl fence is made of plastic, it does become more rigid in colder weather conditions. This being said, it still will not break unless direct impact is made with the fence. Vinyl fencing will expand and contract depending on the temperature. Our vinyl products come from PlyGem and have been specifically engineered to handle drastic changes in temperatures with ease.
Is vinyl fencing maintenance-free?
Another big draw to vinyl fence is that is requires a very small amount of maintenance. Typically, the only maintenance required is hosing any dirt off the fence once a year or so to keep it looking fresh. A hose or a sponge and water are probably the easiest ways to do this.
Will vinyl fence yellow?
Vinyl fence will not yellow as it contains titanium dioxide, which prevents discoloration. Plygem and American Fence Company have partnered us to create a warranty for our vinyl fencing that lasts for 20 years and covers any premature yellowing or discoloration.
Will vinyl fence fade?
Vinyl fence will lose some of its sheen over time, just like vinyl siding and windows do. However, the color itself will not fade. The titanium dioxide in vinyl fencing acts as a compound similar to sunscreen to protect the color.
Is vinyl fence more expensive than ornamental or wood fence?
As far as price goes, vinyl fence is more expensive than wood but cheaper than ornamental. While wood is cheaper than vinyl fence, wood also has a much shorter service life. Vinyl will last you a lifetime and is well worth the investment. Over the last 20 years as vinyl fence has become more and more popular, more varieties of styles have populated the marketplace, providing options for everyone not matter their preferences. It also as kept the marketplace and the prices of vinyl fence stable, further shrinking the price gap between wood and vinyl.
How strong is vinyl fence?
While wood and metal are strong materials, they lack the flexibility of vinyl. Not only is vinyl more flexible and adaptable, it was engineered to be impact resistant and has a chemical makeup that protects it from a variety of other threats. Vinyl is up to a wide array of challenges, whether it be a rock shooting out from underneath a lawnmower or a dog trying to make its great escape.
Will vinyl fence crack, peel, rot or chip?
Unlike other fencing types, you do not have to worry about any distortion of a vinyl fence. Its chemical makeup gives it a hard outer shell that protects its color and a soft inner shell that stops any chipping, peeling or cracking.