You have made the decision to automate your drive gate, but you may be intimidated by the choosing your access control devices. American Fence Company of Iowa can make the gate automation process a breeze for you with their comprehensive access control knowledge. They understand that it is important that gaining entry to your property should be simple and straightforward. With over 100 years of combined experience with gates and access controls, American Fence Company of Iowa can get you the personalized operating system that's right for you.
Access Control for Your Needs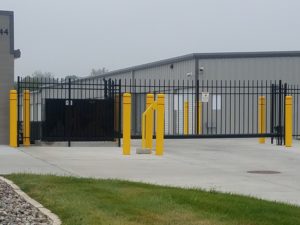 Sliding gate operators allow you to stay in the comfort of your vehicle as they open your cantilever gate. There is a wide variety of access control devices, so you can create a system that caters to your needs. For example, you can install a proximity reader so employees just have to wave a key fob to open the gate. You can also install a free exit loop for a fast and efficient exit, as it would open the gate automatically once you drive over it.
American Fence Company of Iowa can easily automate your swing gate for you as well. They have experience installing hundreds of gates in their lengthy operation history, from a typical 8-foot up to 70 feet wide. Slides gate operators are very similar to swing gate, the main difference between the two being their different opening mechanic.
If you have a space that doesn't have room for the storage of a sliding or swing gate, a vertical pivot gate is a common solution. This style of gate can also be equipped with most of the mechanisms used on other styles of gates.
If you're looking to take the edge off your power bill or lessen your impact on the environment, there are many solar options are also available for the gate operation items mentioned above. These options are a reasonable and economical alternative to running an electrical line to your gate. Before committing to any solar gate access control options, there are a few things you need to consider. The most important of which are what amount of sunlight reaches the area and how often the gate will be in use.
Please give American Fence Company of Iowa a call at (515) 265-6100 or submit an online request to discuss your options and get a free quote today.